I love how SIGGRAPH presents the entire pipeline from idea to production, from research to product, and from software to storytelling.
I've never had a post for SIGGRAPH... I feel that's not how you treat your favorite conference.
I attended the virtual SIGGRAPH 2020 last week. It's beyond what I expected —— user-friendly portal, well-organized system navigation, high-quality videos, flexible on-demand material reviews, and as always, amazing production sessions and electronic theater show. I definitely watched more talks and sessions than I did in any of the past two SIGGRAPH experiences (one in 2016 and one in 2019).
SIGGRAPH is a unique experience for a wide audience. To graphics researchers, it's the chance to see how the technology they developed go into production-level storytelling. To the industry, it's the opportunity to decide what are the next features to drive their future products. This conference is a label for 'high quality visual contents', motivating high quality recording and presentation even for technical papers — to the level that I see other academic conferences can hardly achieve, of course, credits also go to its scale (way smaller than others) and fields (way more visual than others).
In terms of technical and academic impact, there're pros and cons. I'd agree that the machine learning components in SIGGRAPH do not feel as advanced and up-to-date as other vision conferences. Some topics lagged behind such as style transfer and colorization. However, I would also argue that the interactive techniques and components in SIGGRAPH are also key to this conference, not only the UI tools, but also the user — how people receive and respond -- how style transfer applies to artistic creation and how to integrate artistic control. After all, SIGGRAPH has been a 90% physically-based conference up until the emergence of neural networks, we shall give her some time to incorporate all the black-box learning-based methods to a complete integration.
I'm thankful for SIGGRAPH because it pushes me to learn not only how to present a paper, but how to use storytelling tools to walk people through a paper. Recently I've heard people complaining about the timeline being slow and materials being too demanding during the review and camera-ready period. This is a fact: from extensive baseline comparison requests to preparing for the 30-second fast-forward and 17-min talk, I spent way much more time on my SIGGRAPH papers than on the other ones, but that's also what makes it worth it — I only learned how to make presentations and how to present (thanks Ren!) when I need to speak on a SIGGRAPH stage. Imagine people from Pixar and Lucasfilm are sitting in the audience and listening to your talk, all I want to do is to present a technical method as a good story to best bring people into the context.
It's true that SIGGRAPH is a conference for the academia, but that's only (a small) part of it — the rest it 'serves' is the gigantic entertainment industry. I love how it presents the entire pipeline from idea to production, from research to product, and from software to storytelling. Occasionally I'd be more intrigued by the production session, like "the making of The Irishman" they presented this year. All the techniques — 3D face modeling, image warping, landmark detection, reenactment — do not feel new, but the precision and quality they required for each of these steps are way beyond what a research paper can present. It may be easy to go from good to great, but it takes years to go from great to perfect. I always respect people who build things to be examined by the entire humanity…like films!
Shifting to some entertaining components, so far my most vivid memory of attending any academic conference, is the minutes while I was waiting to go onto the fast-forward stage, surrounded by the film-premiere-like atmosphere, the music and the the disco-like lighting design. I was so nervous in the downstage, worrying about whether I go and leave from the correct side of the stage (there are two stages to present in turn so that there won't be any gap in between two presenters), and whether I can speak within the exact 30 seconds before my mic is muted. Things went mostly fine, except that I still left the stage from the wrong side.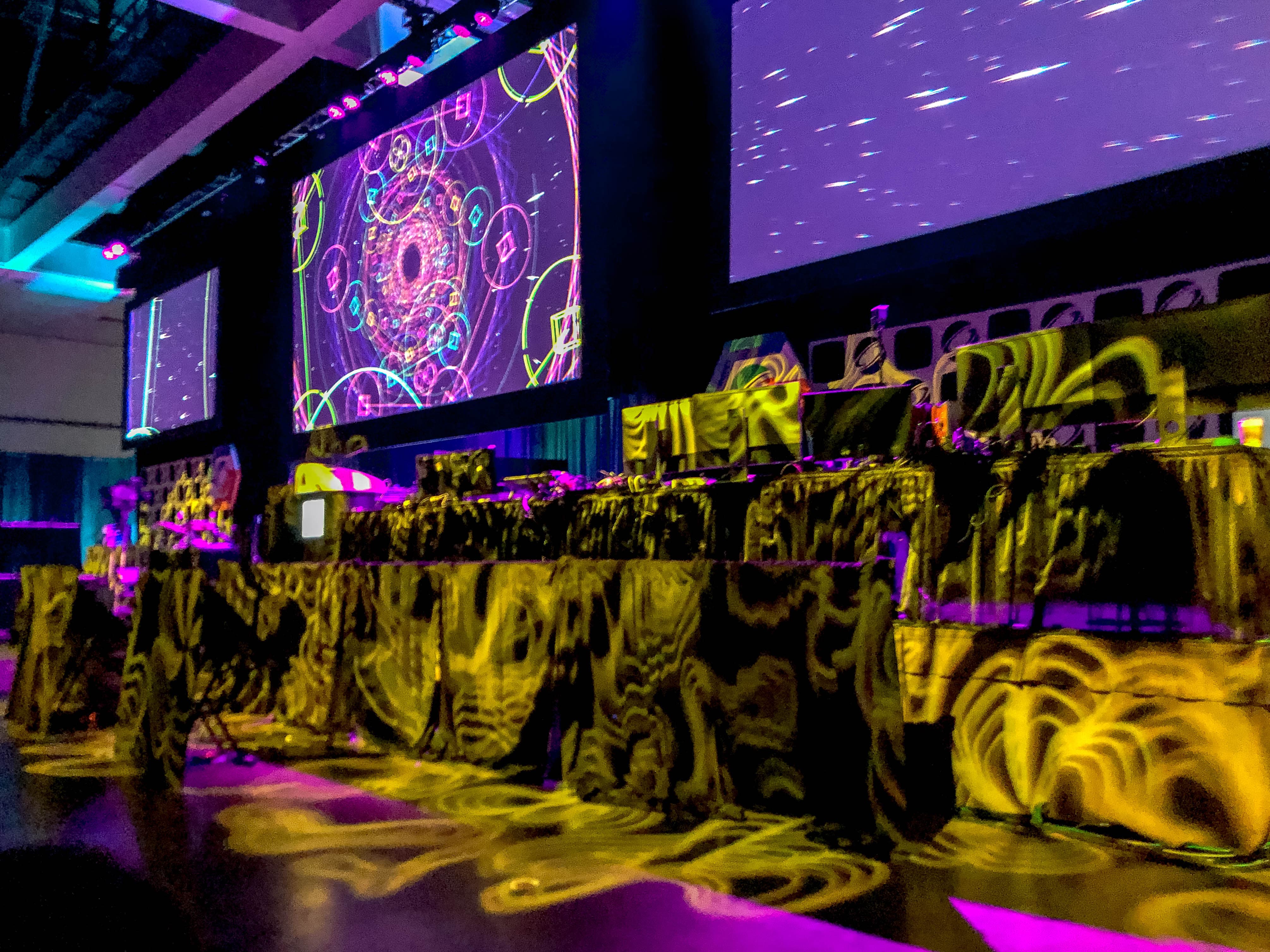 I also had an artist (I think she's still an art student in school and volunteered at SIGGRAPH) draw my dog 米粒儿 and print it on a T-shirt (see below!) —— in Dell's printer exhibition booth. I also had my eyeball scanned and analyzed. I didn't get in the queue of VR films — which I hope I could experience in the future. I enjoyed the 2.5-hour electronic theater, as always… there are many more, in this visual feast, or festival, you name it.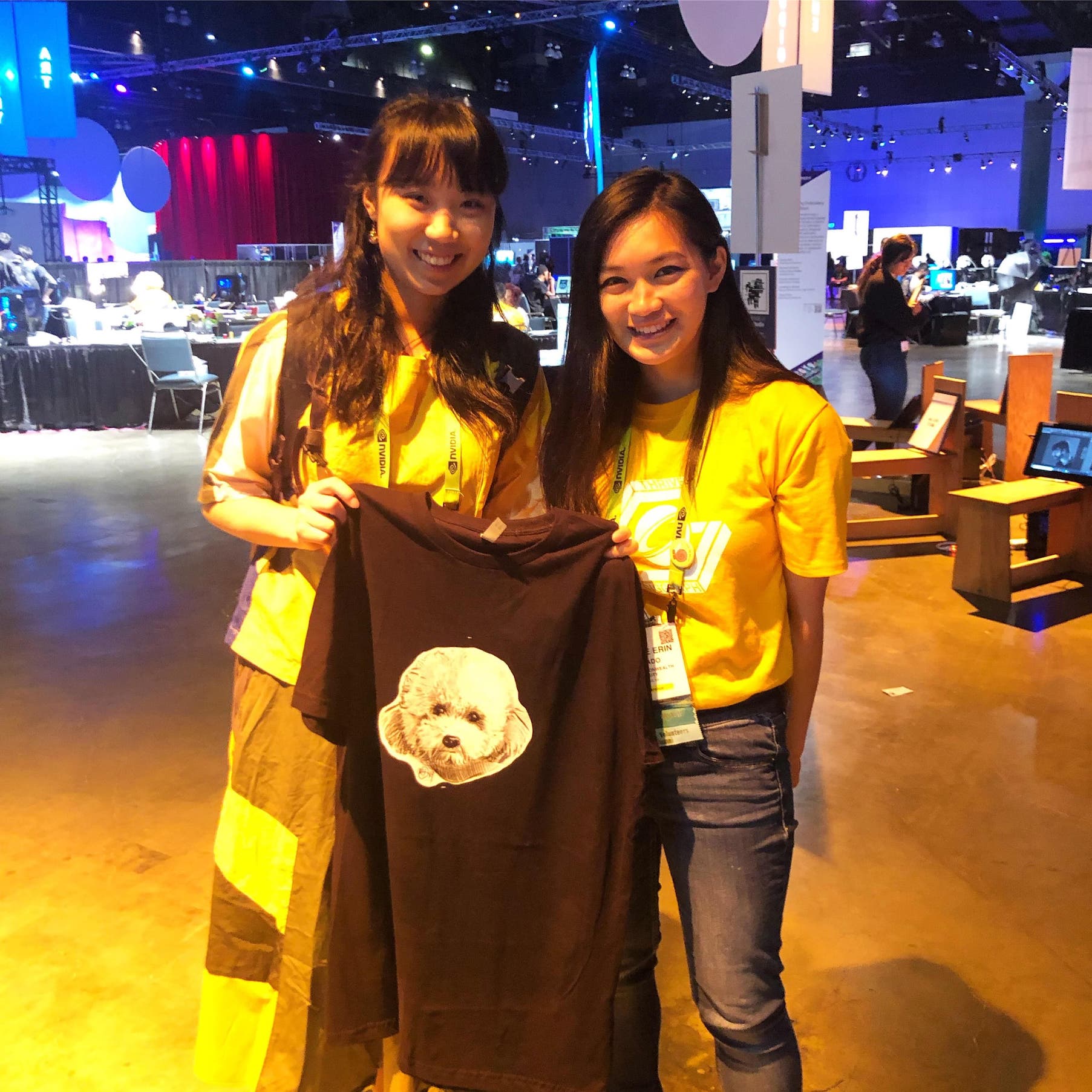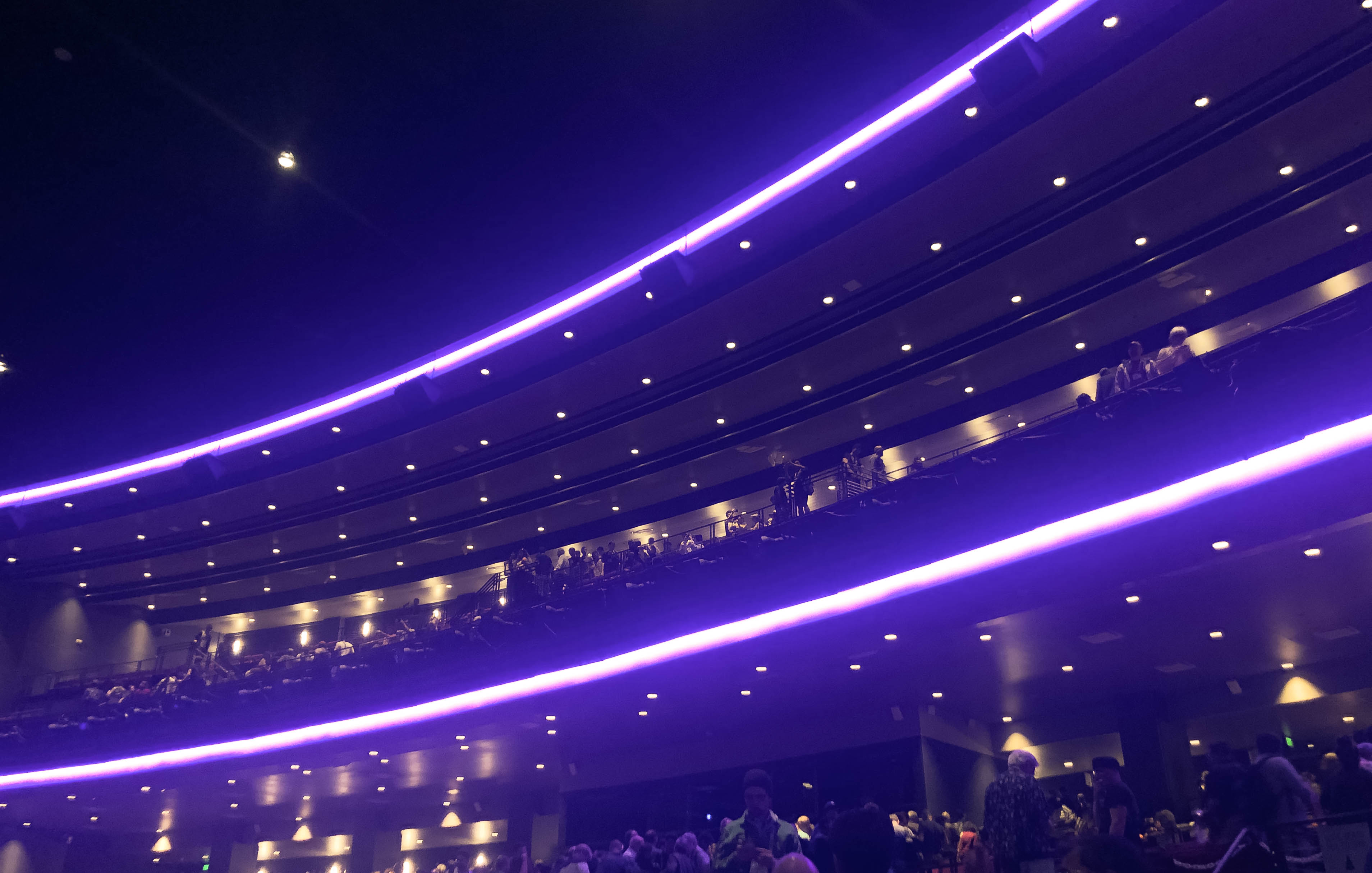 I will try to attend SIGGRAPH every year in the future. It's an enjoyable experience for people who want to build tools for visual applications, who care about how human perceive, who intend to tell stories to the world, and moreover for graduate students who do not only care about numbers but also visual appearance and aesthetics.